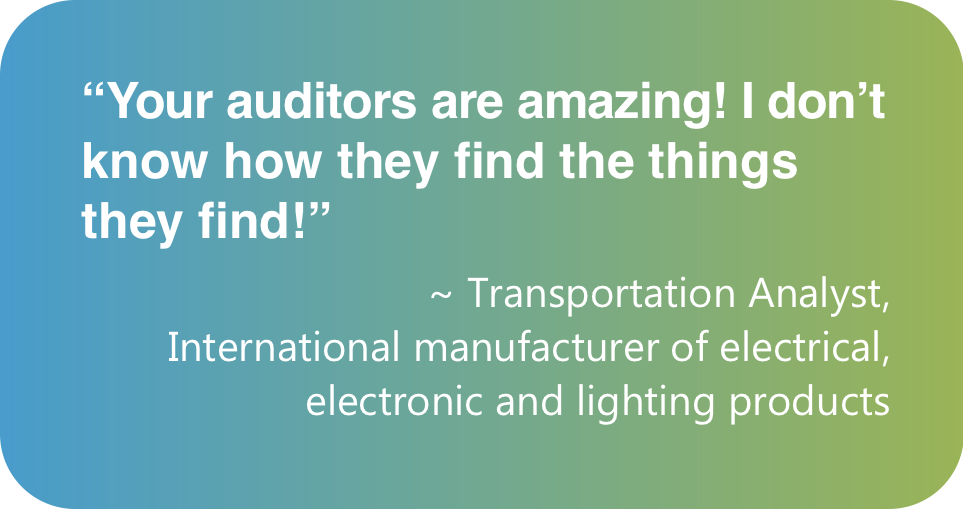 An Overview of Our Global Transportation Post Audit Services
Freight charges are not just the result of simple multiplication, but a combination of various and complex factors, i.e. commodity, mode, weight, distance, origin, destination, tariff regulations, and contractual terms. The application of these factors is further complicated by the nature and specifics of the individual shipment and the route it takes. Highly experienced and skilled professionals are required to accurately and thoroughly audit transportation costs. We possess these subject matter modal experts™, which in combination bring over a half-millennium of transportation experience to our Clients.
To facilitate a thorough post audit, Trans Audit establishes recurring feeds of electronic and paper invoices, bills of lading, contracts, rates, and payment information to perform a recurring review. Our global transportation post audit is wide-ranging:
Audit and analysis of all global freight, parcel, processing and logistics charges

Line item reconciliation of contract terms, rates, classifications, and tariffs with billing

Billing and payment analysis at the invoice, bill of lading, container/car level, etc.

Service level confirmation and recovery for failed deliveries

Identification of overcharges and substantiation of refund claims

Formulation and filing of overcharge refund claims

Structured end to end claim management from submission through resolution

Recovery of historical and ongoing overbillings and overpayments

Identification of cost reduction and contract improvement opportunities

Multi-lingual support and a presence in Asia and Europe enables worldwide review, especially in high volume lanes
As we work directly with your carriers and/or freight audit and payment providers to collect data and negotiate and ascertain refunds, the amount of time expended by our Clients and their staff is minimal!
Global Freight Post Audit & Parcel Post Audit – Scope of Services
The range of our global transportation post audit is extensive and includes all worldwide transportation costs:
Post payment audit of all global, international, domestic, inbound and outbound freight, parcel, processing, and logistics charges

Comprehensive air, rail, ocean, barge, tank, bulk, truck, LTL and small package review

Review and confirmation of contract terms and rate sheets

Line item reconciliation of contract terms and tariffs with billing

Validation of all freight bills against bill of lading, as available

Confirmation of rates, payments, payment terms, payment ownership, currency, accessories, service levels, discounts, classifications, commodities, class, tariff reference points, weights, mileage, fuel surcharges, incentives, rebates, rolling averages, etc.

Recovery of overbillings, unutilized credits, erroneous and multiple payments

Logistics review of recurring shipments to identify hidden