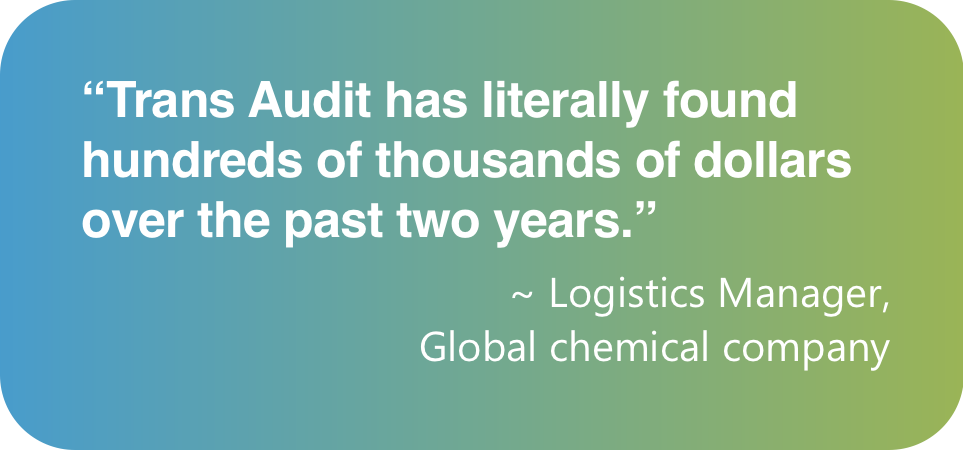 Why should you consider a Trans Audit second post-payment audit… so you can rest easy.
If you already have a post audit in place, a second post audit performed by Trans Audit typically identifies and produces more refunds in the second position than our Client's first audit provider. Trans Audit has proven time and again that our superior personnel, multi-pass process, technology, and data management capabilities identify issues and deliver refunds that other post audit providers miss.
Trans Audit has a long history of commencing Client relationships in the second or third post-audit position, and after producing greater results, being elevated to our Client's sole global post auditor. Utilizing the same data and contracts provided to your first post auditor, Trans Audit unobtrusively verifies the quality of the first audit, and more importantly ensures that every issue is identified, and every refund recouped.
For two separate companies, one a Global Fortune 100 entity and the other a US Fortune 100 organization, Trans Audit replaced three incumbent post audit providers, as Trans Audit produced greater results in the first six months than any of those providers had delivered in years.
Trans Audit's extensive data mining tools and deep dive into contractual terms, accessorials, commodities, and payments surpass entities that predominately seek low hanging fruits and duplicate payments. Trans Audit's technology and pro-level claim management tools prevent the repetition of effort and the filing of duplicate claims for the same issue, minimizing the second post audit load on all parties, especially your carriers.
For a Client list, Client references, or more, feel free to
contact us
.